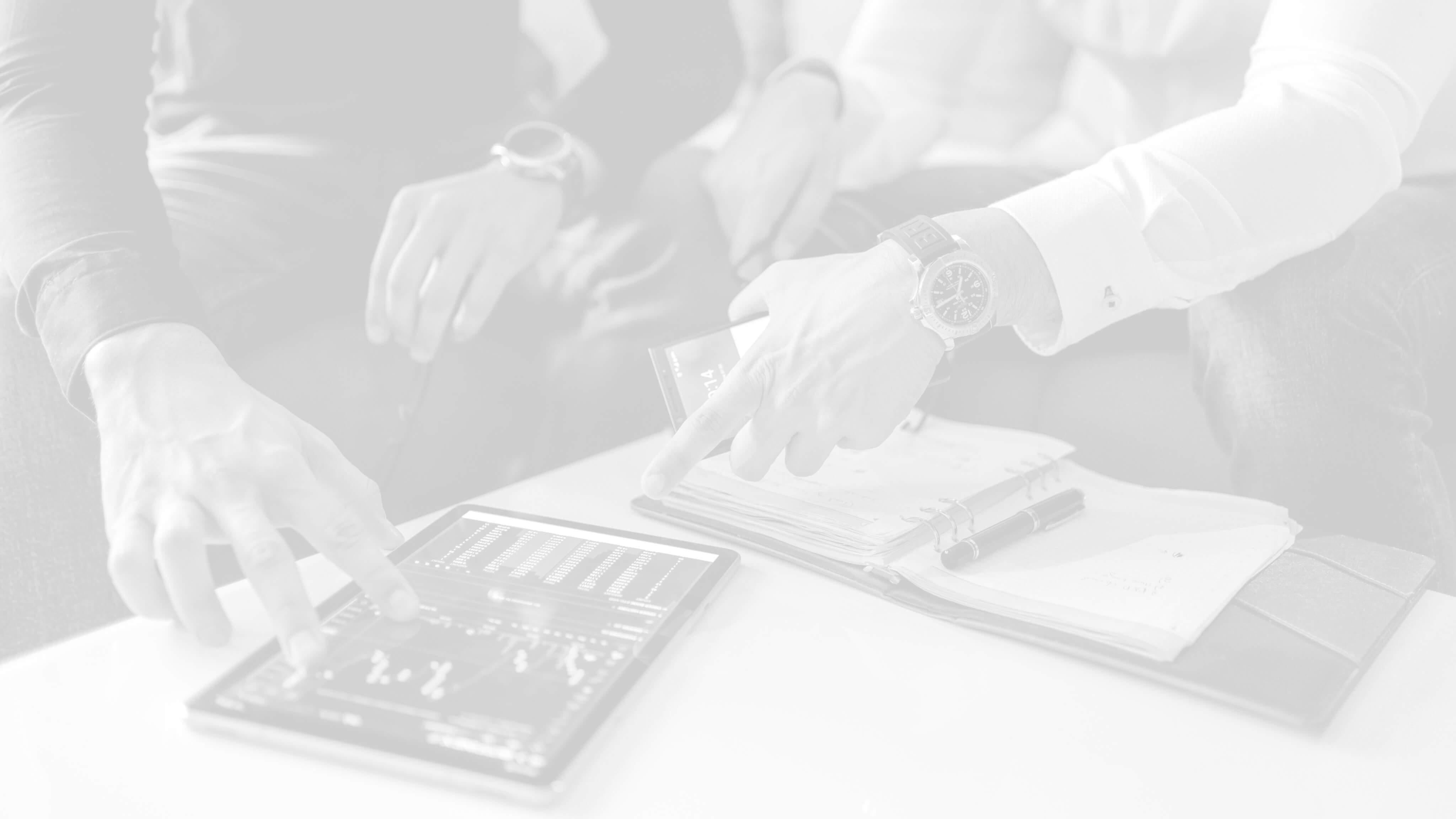 Buy and sell stocks on the US largest stock exchanges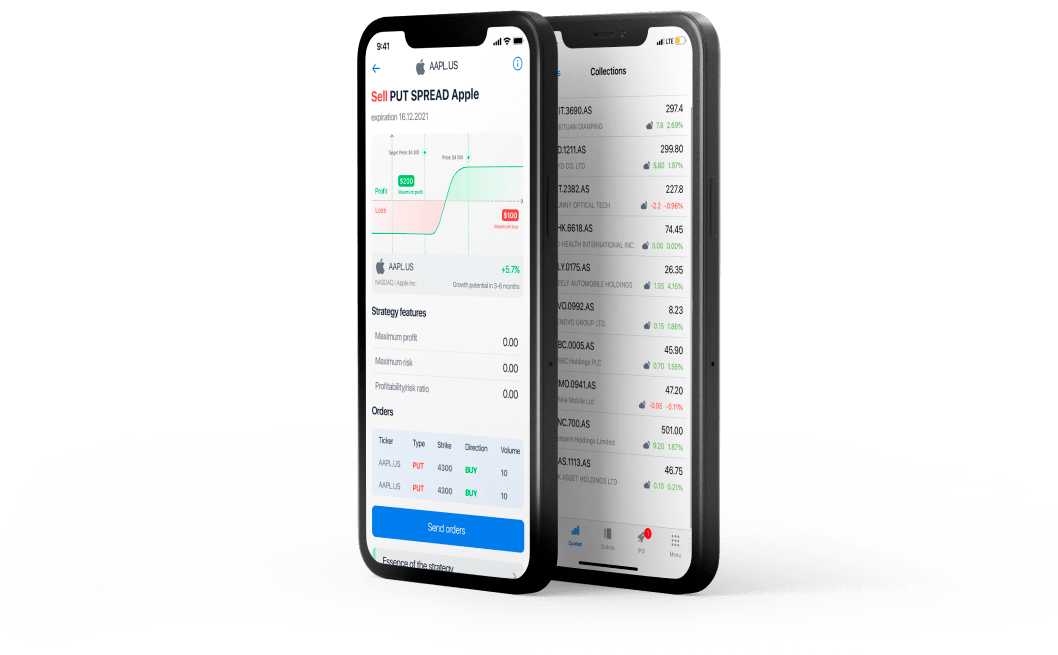 Open a Freedom Finance account and directly access trading on US stock exchanges NYSE, NASDAQ, CME and CBOE
Invest in stocks on the best terms available in Europe
Trade in any US stocks, funds, or options
Choose stocks of the most reliable companies or fast-growing startups and add them to your portfolio in just a couple of clicks. At your request, we will add any instrument that is traded on the exchange if you fail to find it in the terminal.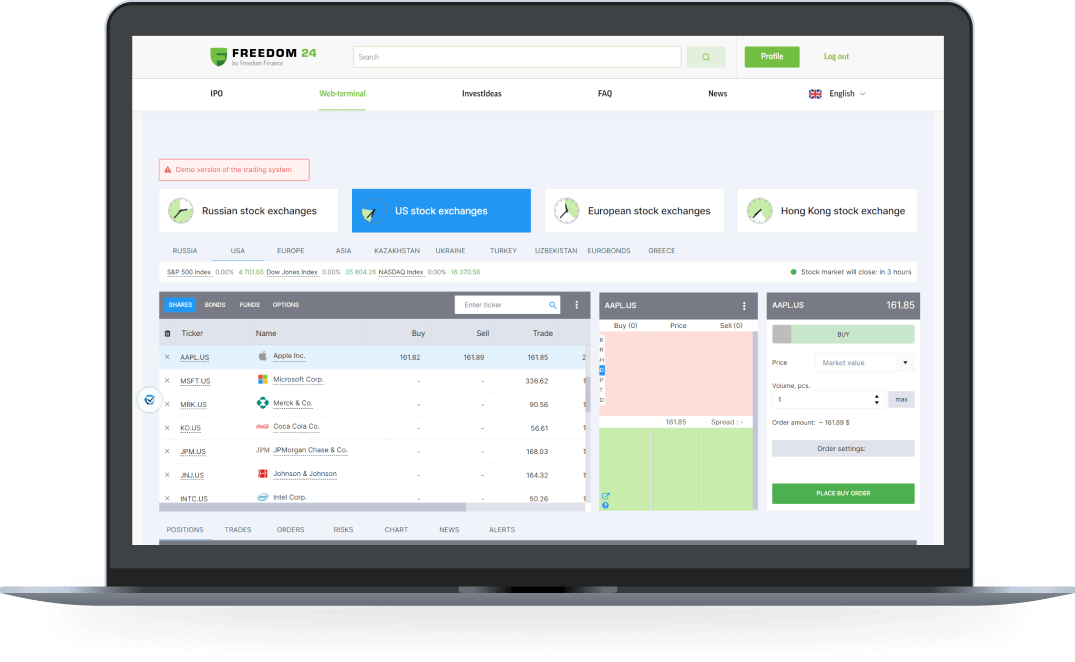 Available tools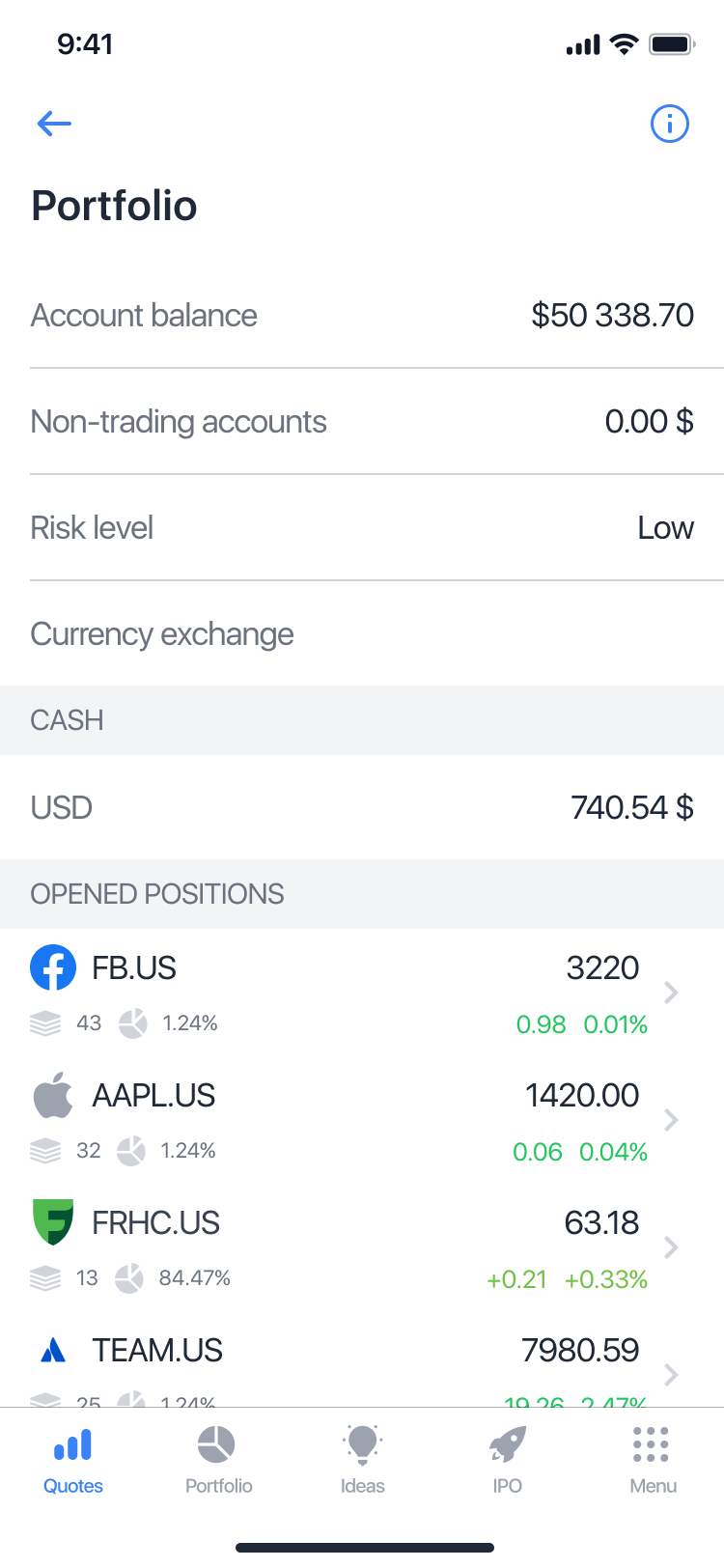 1
Shares
S&P 500 stocks and any other stocks available in the world's largest stock market. Our analysts regularly prepare investment ideas for American securities.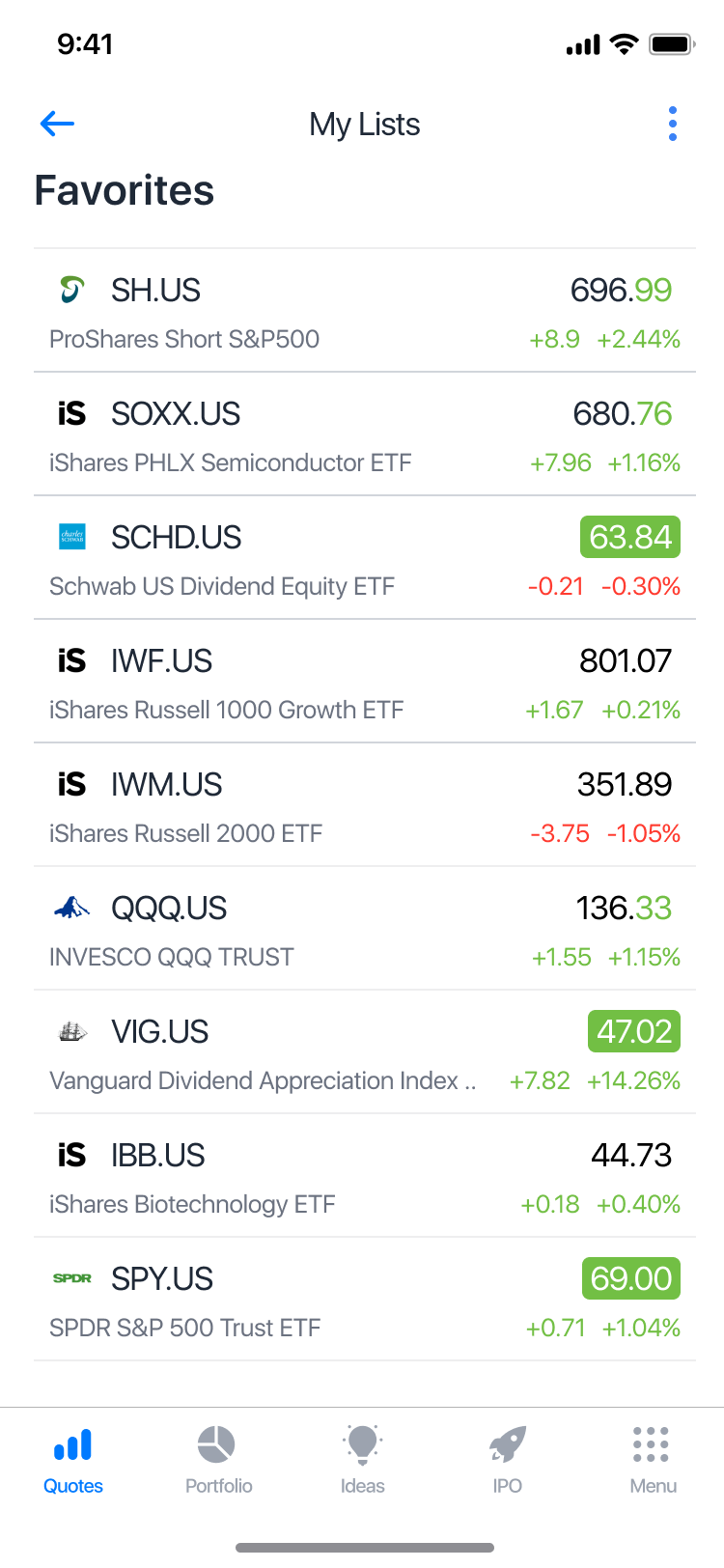 2
ETF
A wide range of US Exchange Traded Funds (ETF - Exchange Traded Fund). Industry, currency, index, commodity and raw material ETFs, real estate funds. You will have access to Vanguard Total Stock Market ETF, ProShares Ultra VIX Short-Term Futures, SPDR S&P 500 Trust ETF, KraneShares CSI, China Internet ETF, ProShares UltraPro QQQ and more.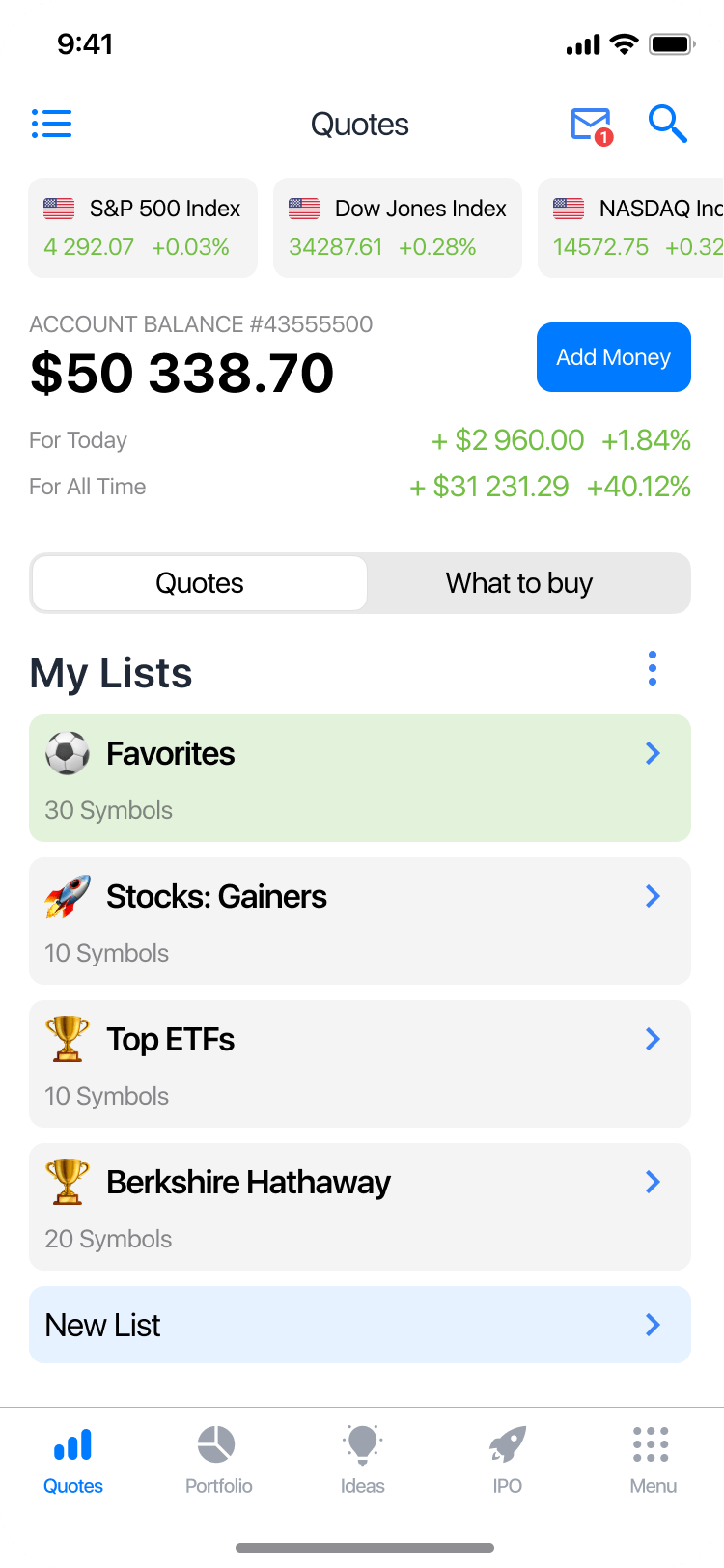 3
Options and other exchange derivatives
Derivatives for stocks, indices, commodities and raw materials are available. Investors are offered high-liquidity option contracts.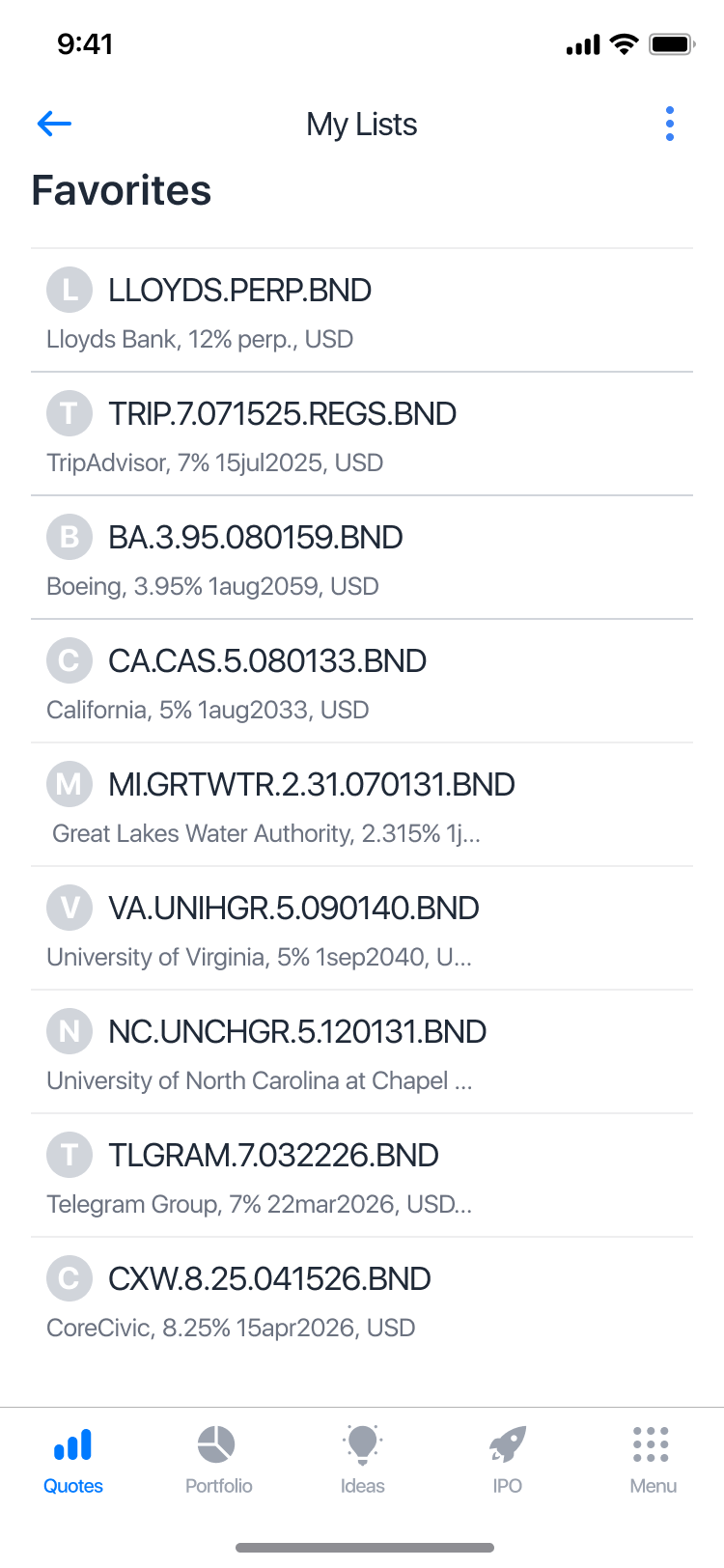 4
Bonds
A wide range of government and corporate debt instruments: bonds, notes.
Interested in new stocks and IPOs?
265 IPO
have been recommended by Freedom Finance analysts since 2012.
59%
Average return at the end of the lock-up period
Register now
and open an investment account
Invest to advantage - no brokerage and bank fees for the first month
Get your free Promo fee plan for the first 30 days after opening the account:
No brokerage fee. No brokerage fee will be charged for exchange transactions in securities.
No bank fee for account top-up. The acquirer's fee for topping up the account by bank card is covered by Freedom Finance Europe.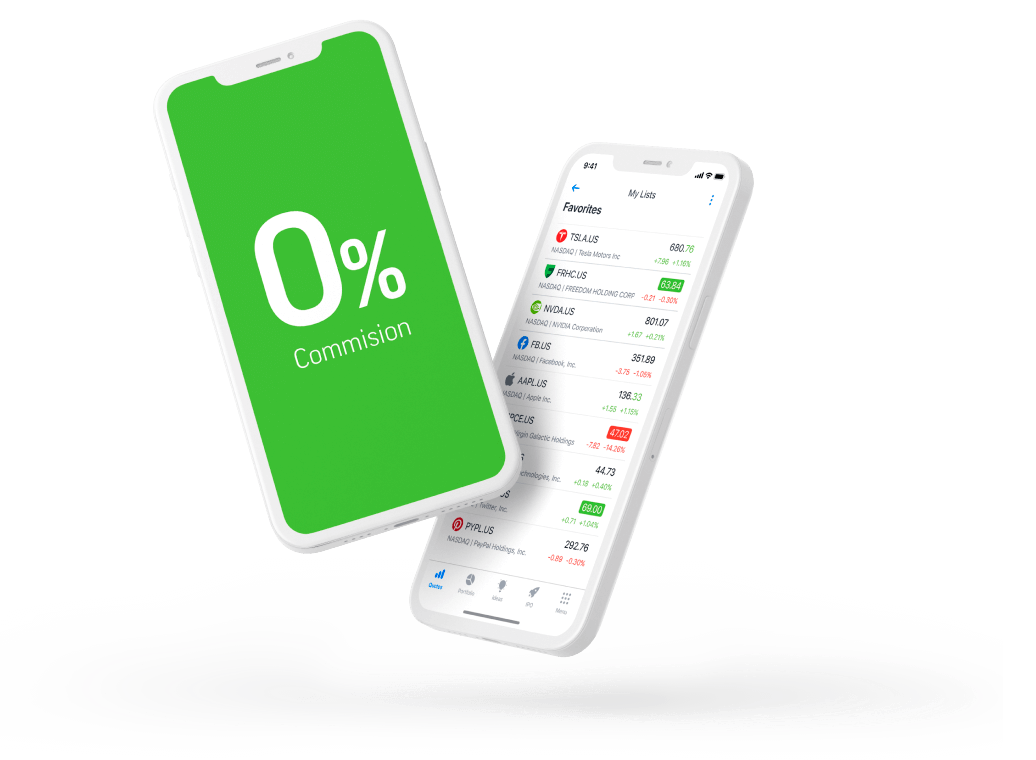 *Upon expiry of the 30 days' period, your Promo fee plan will be automatically switched to Smart.
You can change your fee plan at any time via your member area
Transfer your stocks to us and get bonuses worth € 200
If you transfer your stocks worth over EUR 20,000 from any other European broker to Freedom Finance, you will receive 10,000 points to pay fees. 1 point is equivalent to EUR 0.02.
Sign Up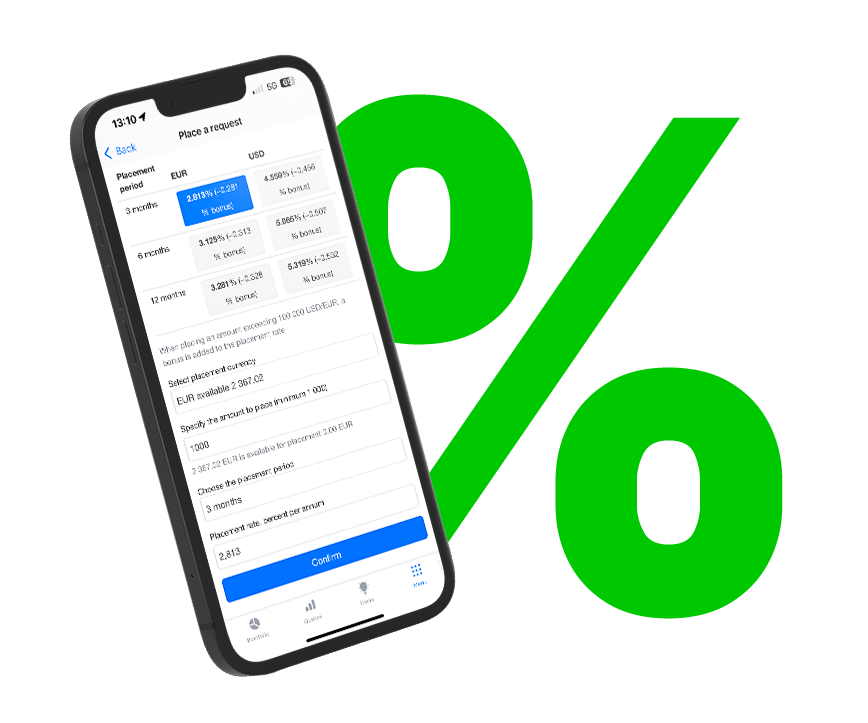 Opening an account takes
10 minutes
To open an investment account, register on the website using your e-mail address and create a password. Pass the necessary verification procedure as required by the European financial regulators. The procedure is fully automated and does not take much time. Top up your account instantly by bank card, or commission-free by bank transfer.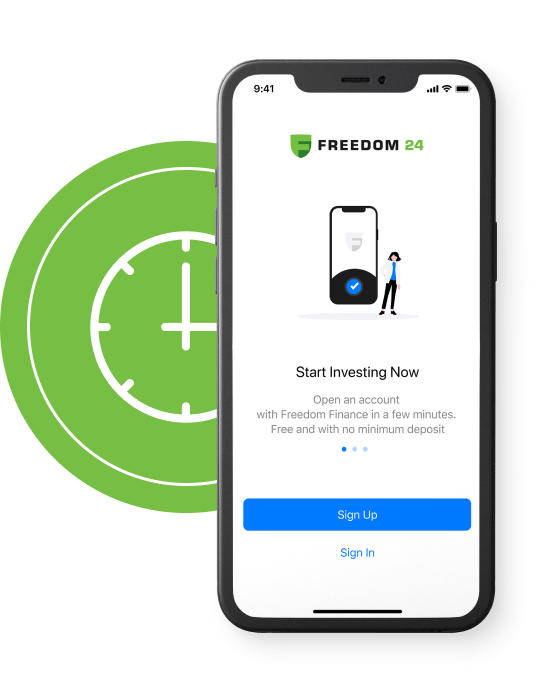 Register now
and open an investment account
Register and start investing in US securities
Buy and sell on American exchanges at your own discretion, or use the recommendations of our specialists. Their advice will help you form a customized trading strategy and develop effective risk management principles. Group and personal training is available.
The headquarters and offices of Freedom Holdings Corp are located in the US, Europe and Asia.
The holding is regulated by the American Securities and Exchange Commission (SEC).We operate under MiFID II, a regulatory framework involving a high investor protection level.